I think this year has been the best so far in so many ways.

I don't know whether it is the new president (but I like to think he has something to do with it) but the people seem more relaxed and the security people at the airports are friendlier, so even when they are checking your luggage they are chatting and smiling.

My flight to LA was trouble free, as was my follow on flight to Milwaukee.

I had a day to buy the few extra things I needed for the show and then it was off to the three day Master class with Kristina Logan. (Photos of the
Master class
are here - for class members.)
If you ever have a chance to do one of the Master classes, I cannot recommend it enough. Three days of learning along with breakfast and lunch. Also a graduation dinner on the third night and enough snacks and drinks during this time to keep a small country afloat!

Not only was Kristina the teacher but Terri Caspary- Schmidt was the TA!!!

If that wasn't enough, Andrea Guarino came in and demonstrated her moth wing bead!

On the following two days I had a fantastic class with Michael Barley. Again a truly brilliant class.

I went straight from the class on the Thursday and into the opening night of the Bead and Button show. I am sure that over the night and following three days that there were more people through the door than last year.

It was great catching up with people who are becoming old friends both in the classes and at the show.

I was tired when the show was over but sad at the same time.

On the Sunday night there was a practical joke? pulled on one of the guests at the hotel. This led to the bottom three levels of the hotel being flooded by the water sprinklers.

I left Milwaukee on the Wednesday and went to San Francisco for three days for some shopping and sight seeing and then back to L.A. for another few days of the same.

I would like to thank Linda and Marlene and all of the Bead and Button Show folk for organizing another brilliant show and of course the Master classes wouldn't run nearly as smoothly without the wonderful Joel to oversee everything.

Kristina Logan in the Master class.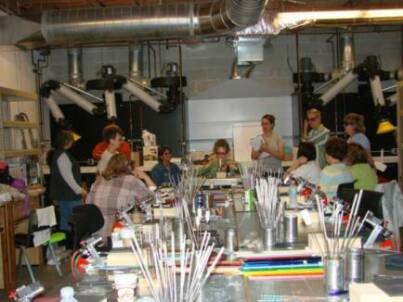 Everyone watching Kristina demonstrating.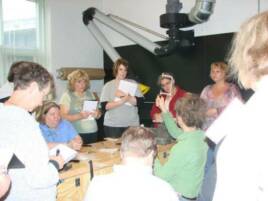 Showing us how to put a silver core in our beads.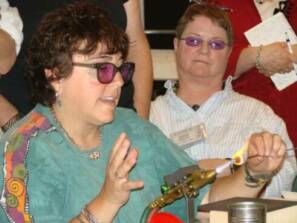 Andrea Guarino-Slemmons demonstrating.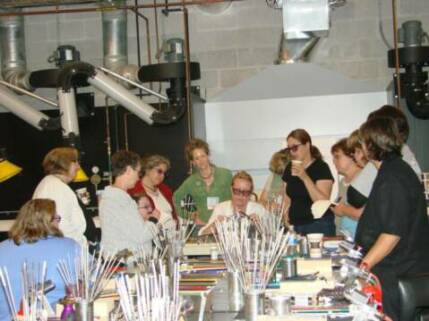 Terry Caspary - Schmidt demonstrating.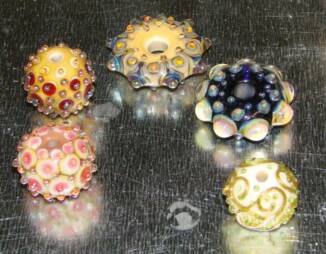 Some of the beads I made in the class.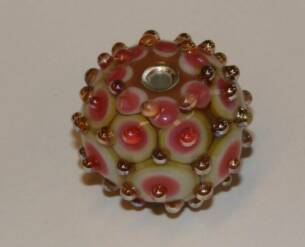 My bead with its silver core.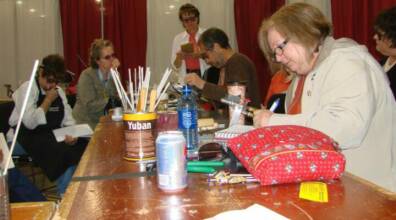 Michael Barley demonstrating.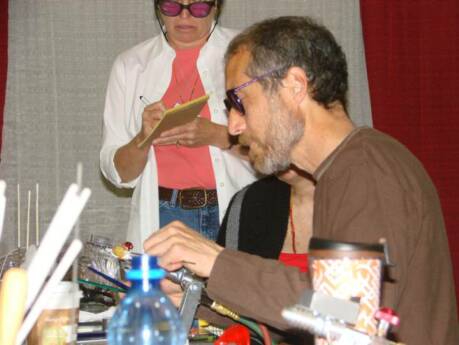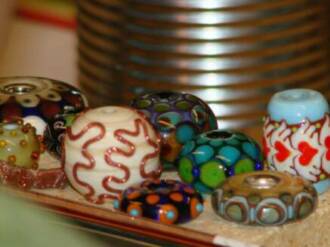 Some of Terry and Kristina's demonstration beads.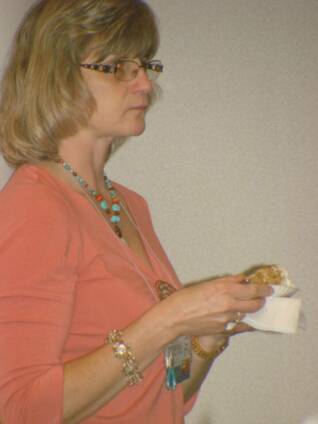 Linda Kollatz at the Bead social night.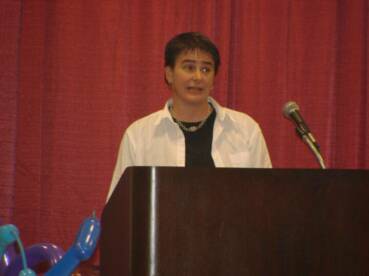 Anne Mitchell receiving her award for excellence in her field of jewellery with fine silver and her contribution to the Bead and Button Show over the last nine years. Well deserved as her work certainly is excellent.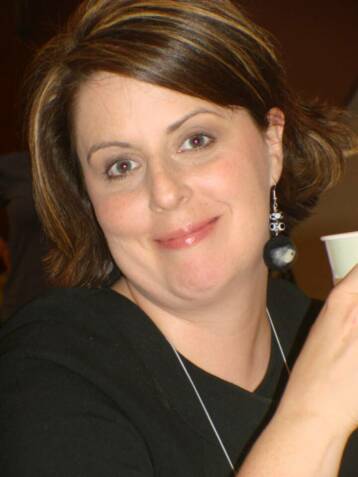 Amanda, what can I say? Definitely a quiet achiever.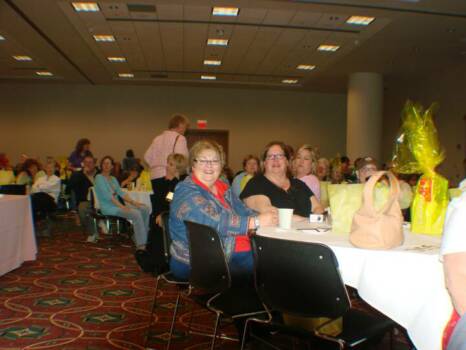 People at the social night where the auction for various items with the money going towards breast cancer research. Boy it got fast and  furious at times!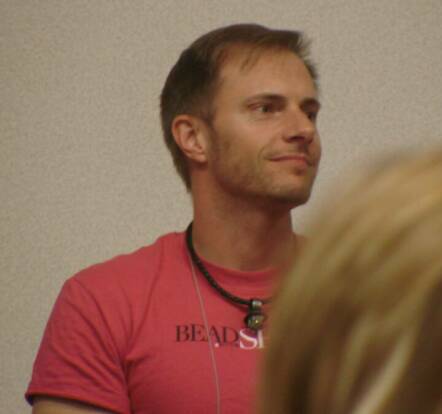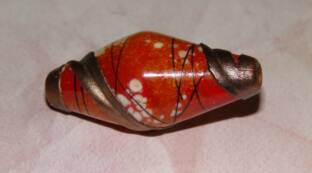 2009 Commemorative bead by Kate Fowle - Melaney.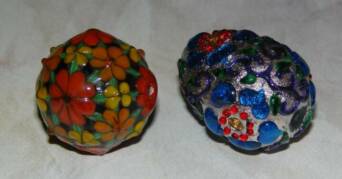 Two of Emiko's beads, above and below, the one she gave me.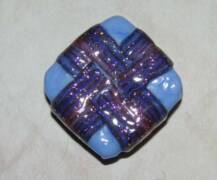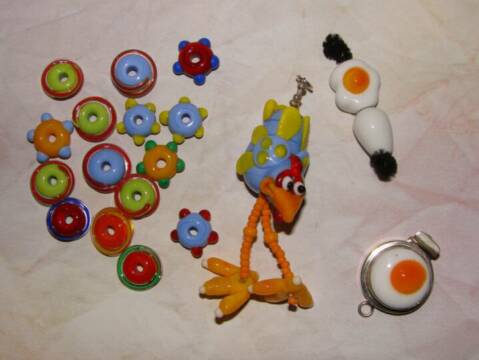 My "Easy Lay" necklace in the making, by Sharon Peters (who else!?) Complete with sterling silver fried egg box clasp.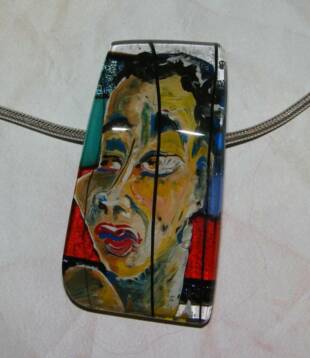 A brilliant pendant made by Malcolm Potek and his wife Kara Van Wyk.

Malcolm was teaching in the room next to the Master class and I must say that his class is definitely on my 'to do' list for next year.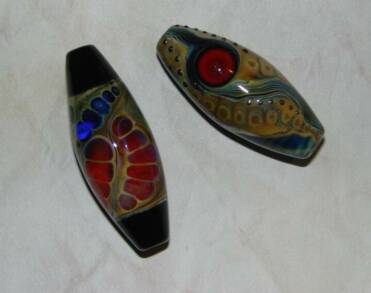 Two of Michael Barley's beads.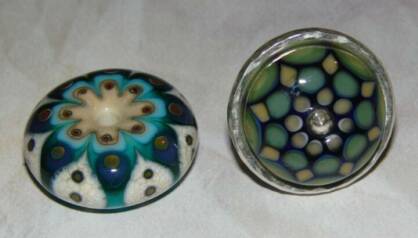 A disc bead and ring by Kristina Logan.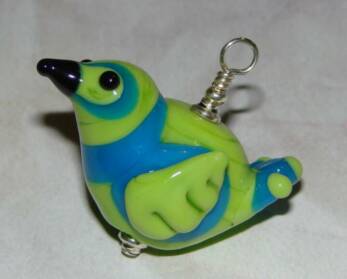 I must say that Sharon Peters is one of the most generous people I have met.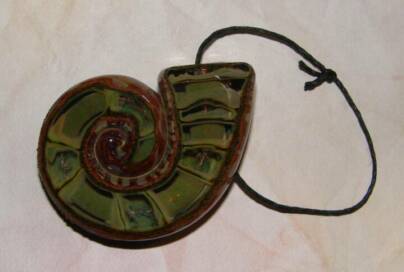 A borosilicate nautilus shell by Andrew Brown.

(A very pleasant surprise from Janet Yockey.)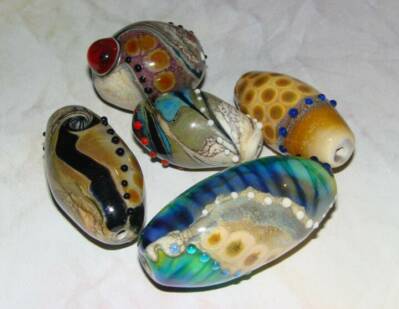 Some of the beads I made in Michael Barley's class.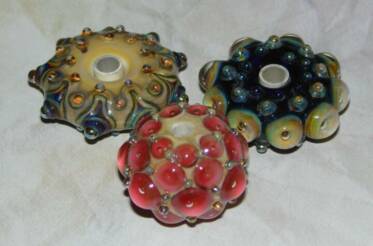 Some more of my beads from Kristina's class.

(I still have to finish the silver cores.)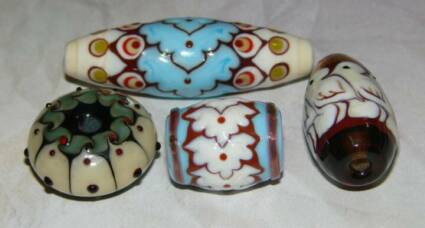 Some of Terry Caspary - Schmidt's beads.